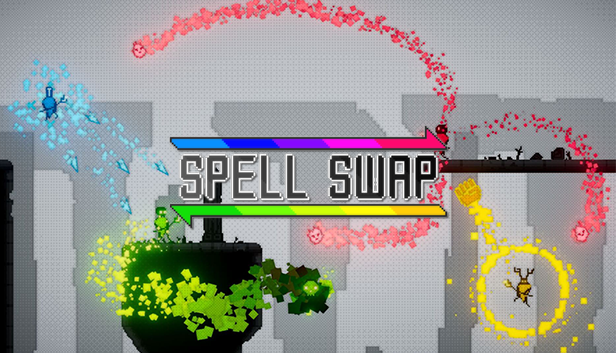 Factsheet
Developer:
Teagher Studio
Based in Normandy,
France
Studio Founding Date:
Around 2017
Website:
Press / Business Contact:
Social:
Pitch
An explosive 2D wizard fighting game about swapping spells with your opponents. Everyone gets their own spell and swaps on impact. Use your spell to kill your opponents... or use it to steal their own!
Description
Spell Swap is a 2D platformer wizard fighting game where each player gets assigned a single spell which they swap around when hitting each other! Use your spell to kill your opponents, or use it to steal their own! Be careful of enemies surviving your attacks, they will get their revenge on you with your previous spell!
Features
Play with your friends

Spell Swap allows you to play locally with your friends and familly, or play online with Steam Remote Play Together! (There is no solo mode) Let's see who's going to become the best wizard. Or play in teams and cooperate to see what team shall dominate the tournament!

Swap between 24 different spells

From magical arrows to fireballs, meteor storms or even a nuclear bomb, you have a wide range of spells to master and use against your opponents. Before you start fighting, choose which spells will be available in your tournament. You can fight with only 2-3 spells to ensure a simple and skillfull fight, or enjoy pure chaos and enable the entire pool of spells!

Customize the game

Create your very own Spell Swap Tournament by tinkering with a lot of customization options! Choose your gamemode, set the objective, play in teams (or not) and add a variety of modifiers to spice things up! Modifiers can reduce spell cooldowns, make the world bouncy, change the art style or even trigger an extremely violent thunderstorm.

No player limits

Play with as much players as you want. If you want to try total chaos with a 20-player game, you absolutely can, we won't stop you! As long as you have enough controllers and keys on your keyboard for everyone to play...
Team
Thomas Lebrun
VFX / 2D Art / Level Design / Audio (Music & SFX) / Game Design
Anatole Chaumont Frelet
Systems Programming / Lead Dev / Game Design
Léa Pequignot
2D Art / Trailer
Jean-Christophe Joubier
Gameplay Programming